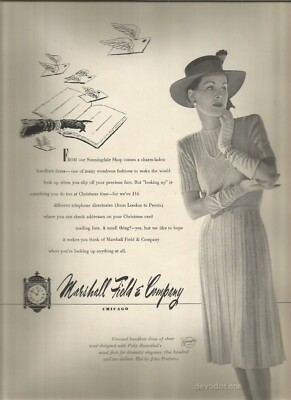 This Potpie is synonymous with Marshall Field's. It is, in fact, Mrs. Hering's Chicken Potpie, which was made famous in 1890 when a Marshall Field's clerk heard customers talking about lunch and offered them the homemade chicken potpie she brought for her own lunch. She set up a table, served her pie, and started a tradition, according to the Marshall Field's Cookbook by Stephen Siegelman and Marshall Fields.
Chicken and broth:
1 3 1/2 lb. frying chicken
1 carrot
1 celery stalk
1 sm.onion, halved
2 t. salt
Directions: Combine chicken, carrot, celery, onion, and salt in large stockpot. Add cold water just to cover and bring to a boil over high heat. Decrease heat to low and simmer 45 minutes. Transfer chicken to a plate and allow to cool.
Increase the heat to high and bring broth to a boil for 20 min. to concentrate the broth. Pass the broth through a fine-mesh strainer and discard the vegetables. When cool enough to handle, pull the chicken meat from the bones and shred into bite-sized pieces.
The dough:
1 1/2 c. flour
1/2 t. salt
1/2 c. cold unsalted butter, diced
1/4 c. vegetable shortening, chilled
3 to 4 T. ice water
Directions:
Combine flour, salt, and butter in bowl to combine. Add the shortening and combine until dough resembles coarse cornmeal. Transfer to a bowl and sprinkle with 2 1/2 to 3 T. of ice water. Stir and then press with a wooden spoon until the dough sticks together. A little at a time, add more water if the dough won't come together. Shape dough into a ball and then flatten into a disk. Cover in plastic wrap and refrigerate for 30 min. or up to 2 days before rolling.

The filling:
6 T. unsalted butter
1 lg. onion, diced (about 1 1/4 c.)
3 carrots, sliced thinly on the bias
3 celery stalks, sliced thinly on the bias
1/2 c. flour
1 1/2 c. milk
1 t. chopped fresh thyme
1/4 c. dry sherry
3/4 c. frozen green peas, thawed
2 T. minced fresh parsley
1 t. salt
1/2 t. freshly ground black pepper
1 egg beaten with 1 T. water
Directions:
Preheat oven to 400 degrees F.
Place a large saucepan over medium heat and add butter. When the butter is melted, add the onion, carrots, and celery for filling and cook, stirring occasionally, for 10 min. until the onion is soft and translucent.
Add flour and cook, stirring, for 1 min.
Slowly whisk in the milk and 2 1/2 c. of the broth. Decrease heat to low and simmer, stirring often, for 10 min.
Add the chicken meat, thyme, sherry, peas, parsley, salt, and pepper and stir well. Taste and adjust the seasoning if necessary.
Make the pies:
Divide the warm filling among six 10-to-12-oz potpie tins or individual ramekins.
Place the dough on a floured surface and roll out to 1/4″ thick. Cut into 6 rounds about 1″ larger than the dish circumference. Lay a dough round over each potpie filling. Tuck the overhanging dough back under itself and flute the edges with a fork. Cut a 1″ slit in the top of each pie. Brush tops of pies with egg wash. Line a baking sheet with cooking parchment.
Place pies on the baking sheet and bake 25 min., until pastry is golden and filling is bubbling. Serve hot.
6 servings