From the Marshall Field's Cookbook.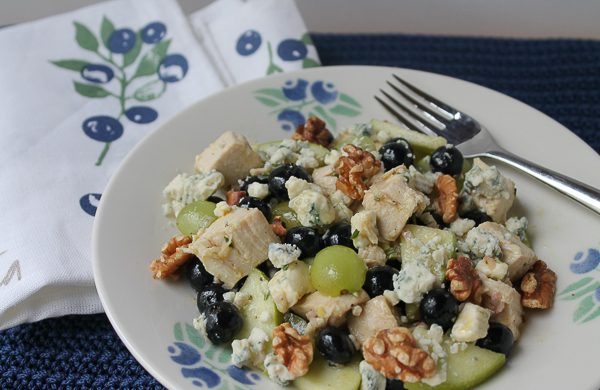 Thanks and credit to the Culinary Cellar https://theculinarycellar.com/the-marshall-fields-cookbook/?ref=tfrecipes who notes that in 1890 Marshall Field's was the first department store in the country to serve food. It did, and so eloquently.
Ingredients
Dressing:
2 t. Dijon mustard
2 T. minced shallot
2 T. honey
3 T. lime juice
1 t. salt
½ t. black pepper
1 T. minced fresh rosemary.
¼ c olive oil
Salad ingredients:
3 c. cooked chicken, in bite-sized pieces
1 Granny Smith apple, unpeeled, in ¼" slices
1-1/2 c. green grapes, halved
1-1/2 c. fresh blueberries
½ c. chopped toasted walnuts or hazelnuts
½ c. crumbled blue cheese
Preparation:
Dressing: Whisk dressing ingredients except olive oil. Slowly whisk in olive oil to make an emulsion.
Salad: Combine salad ingredients and pour the dressing over the salad and toss to coat thoroughly. Serves 6.