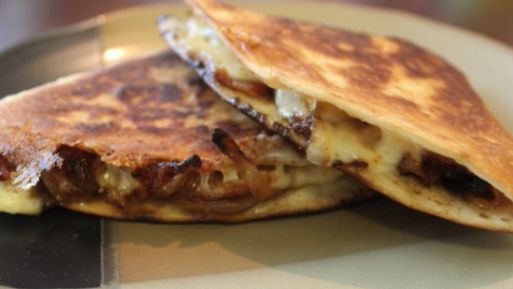 I've treasured this appetizer for 15 years, ever since my husband's high school buddy and trained chef David prepared these extra-ordinary quesadillas for us at his house party. The flavors are out of this world, but that means this appetizer disappears fast!
Begging for the recipe, he directed me to the recipe invented by James H. Turner IV, of Saco, Maine, and published in 1995 by Bon Appetit magazine. Now it can be found at Epicurious: http://www.epicurious.com/recipes/food/views/Smoked-Gouda-and-Caramelized-Onion-Quesadillas-699. The recipe repeats below:
Smoked Gouda and Caramelized Onion Quesadillas
2 tbsp. (1/4 stick) butter
1 onion, thinly sliced
1 tbsp. golden brown sugar
1/4 tsp. white wine vinegar (Note: Balsamic vinegar is amazing too!)
1 1/2 cups grated smoked Gouda cheese
4 10-inch-diameter flour tortillas
2 oz. sliced prosciutto, chopped
2 tbsp.s (1/4 stick) butter, melted
Melt 2 tbsp. butter in heavy medium skillet over medium heat. Add onion, brown sugar and vinegar; sauté until onion is golden brown, stirring frequently, about 25 min. Remove from heat. Cool to room temperature. (Note: Make this ahead of time to ease party prep.)
Preheat oven to 350° F. Sprinkle cheese over half of each tortilla, dividing equally. Sprinkle prosciutto and sautéed onion over cheese. Season with pepper. Fold other half of each tortilla over cheese mixture. Brush tortilla with some of melted butter.
Brush heavy large skillet with some of melted butter. Place over medium-high heat. Working in batches, cook quesadillas just until brown spots appear, brushing skillet with butter between batches, about 2 min. per side. Transfer quesadillas to heavy large baking sheet.
Bake until tortillas are golden and cheese melts, about 5 min.
Transfer quesadillas to work surface. Cut each into 6 triangles. Arrange on platter and serve hot. Makes 6 appetizers.