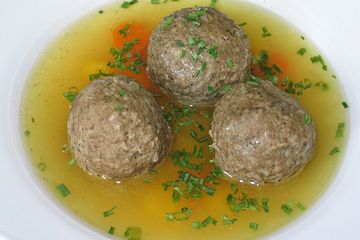 A traditional and amazing soup. The recipe was originally published in 1980 by the Milwaukee Sentinel.
Karl Ratzsch's Liver Dumpling Soup
1 qt. consumme, beef broth or beef bouillon
2 tbsp. bread crumbs
4 tbsp. butter
Liver Dumplings
1 lb. calves liver, coursely ground
1 onion, diced
1 tsp. butter
12 sl. white bread, crusts removed
1 c. heavy cream
2 eggs, beaten
1½ tsp. salt
½ tsp. pepper
¼ tsp. nutmeg, grated
Flour
Soak the bread in a mixture of the eggs and cream. Cook onion lightly in 1 tsp. butter. Add to ground liver. Add soaked bread to meat along with the seasonings and beat until smooth. If too soft to hold its shape on a spoon, beat in flour to desired consistency. Bring consommé. beef bouillon or broth to a boil. Drop spoonfuls of the liver mixture into the stock and boil 20 min. Serve in bowls garnished with bread crumbs that have been browned in 4 tbsp. butter. Serves 8 or more.